March 27, 2013
CONTACT: Melissa Brisco , Nomiss Communication – (806) 544-4255
Association of REALTORS Offers Tips for Home Owners
LUBBOCK, Texas, March 27, 2013 /PRNewswire/ -- Attention to detail and proper preparation can alleviate much of the stress and save time for first-time home buyers.
Coby Crump , President of the Lubbock Association of Realtors said to keep in mind personal finances, the bigger picture, and professional assistance to make for a smooth sale.
Before even beginning to look at the first house, Crump said, it would behoove buyers to sit down and consider their financial situation.
"You can waste a lot of time if you view homes without knowing what you can really afford," Crump said.
In addition to monthly payments and a down payment, it is important to consider property taxes and insurance. A Realtor can be beneficial in assessing one's finances.
"When considering finances, be sure to get pre-approved for any loans," he said. "This allows the comfort to search for homes in the buyer's price range. It can also show a seller that he or she is interested and serious, and can allow for an offer to be made quickly."
Crump added to keep in mind the bigger picture and ultimate goal when faced with annoyances or hiccups in the process. Be realistic and be prepared to make minor concessions.
"You don't have to set low expectations about your home purchase," he said. "Just know that you may need to give a little on one of your search criteria."
With all hiccups or potential problems, it is helpful to have professional assistance; and this includes a professional inspector and a Realtor.
A professional inspector can determine what needs to be repaired or replaced. A Realtor will prove to be an invaluable partner for the duration of your buying experience. A Realtor belonging to the National Association of Realtors is held to a high standard of ethics.
"Your Realtor will look out for your best interests and help you find your ideal home while helping you to avoid making mistakes you could regret," Crump said.
Source: Lubbock Association of Realtors
January 11, 2013
Coby Crump Installed as 2013 President of the Lubbock Association of REALTORS
The Lubbock Association of REALTORS held their annual Installation and Awards banquet on January 11, 2013 at the McKenzie-Merket Alumni Center. John Walton of Century 21 John Walton, REALTORS installed Mr. Coby Crump of Exit Realty of Lubbock as the 2013 President. Also installed were the 2013 officers: Nancy Rawls, President Elect; Rusty DeLoach, Treasurer; and Charles Kearney, Secretary. Also installed were the 2013 Directors: Cynthia Arriaga, Jef Conn, Frank Harmon, Jack Howard, Dan Williams and Jana Wuthrich. Tony Lloyd of RE/MAX Lubbock served as the Master of Ceremonies.
The banquet also serves as the time to present the "REALTOR of the Year" award. Debora Perez-Ruiz was honored as the 2012 REALTOR of the Year. Debora served as President of the association in 2012. Debora has been a REALTOR for twenty-seven years and is the owner/broker of MoVaDe Realty. She holds the Certified REALTOR Broker (CRB) and Certified Residential Specialist (CRS) designations. Debora was recognized for the numerous association committees and task forces she has served on and her passion for the real estate profession.
Jana Wuthrich of Exit Realty of Lubbock served as the chairman of the Installation and Awards Banquet Committee. The theme of the event was "Life is Good," a favorite saying of Mr. Crump's. The event was attended by over 200 REALTORS and guests.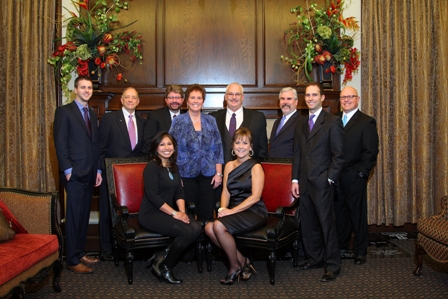 (from left, standing): Jef Conn, Frank Harmon, Coby Crump, Nancy Rawls, Charles Kearney, Rusty DeLoach, Dan Williams, Jacky Howard
(seated): Cynthia Arriaga, Jana Wuthrich
Debora Perez-Ruiz, 2012 REALTOR of the Year
---
CONTACT: Ginger Robertson, (806) 781-0198
LUBBOCK REALTORS HELP KIDS WALK WITH PRIDE
Lubbock Realtors give back to the community in many ways. Walk With Pride is a program developed and supported entirely by Lubbock Association of Realtors members and affiliates that provides new shoes and socks for children in need as the the new school year begins. In 2012, over 650 pairs of new shoes and socks were distributed.

Walk With Pride is made possible through the support Payless Shoe Stores and employees from the South Plains Food Bank who contribute their own time and energy to help identify children and families in need. Payless Shoe Stores generously allow our members to take over their store for a couple of hours over a three day period and allow us to help fit children for athletic shoes of their choice.
---
CONTACT: Kim Davis, (806) 544-4255

INVESTING IN REAL ESTATE SAVES MONEY FOR FAMILIES OF STAIR-STEP COLLEGE STUDENTS
(LUBBOCK, TX) – Strapping back for college as you look at one child and scratching your head as you look to your second and third coming right behind?

Maybe it's time to consider buying a house.
Pardon the whiplash on that last one, but the fact is, many parents are investing in real estate close to campus for their college-bound offspring. Oftentimes, it's preferable to shelling out dormitory fees or apartment rent.

"In Lubbock, that's definitely true. We're right in our peak season for families whose children will be attending Texas Tech in the fall," said Debora Perez-Ruiz of MoVaDe Realty and president of the Lubbock Association of Realtors. "And, the majority of parents who purchase homes have stair-step children; meaning that once one is in college, future kids from the same family will be attending college within the next few years. The cost savings over the long run – especially for this type of family – is exponential."
And the timing is right, Perez-Ruiz added. Lubbock's real estate market has been continuously in better shape than the rest of the state and nation – but even locally, the last three months have outshined the last year.
"Parents of kids who plan to come to Tech next year have every reason to consider home ownership," Perez-Ruiz said. "The market's stable, homes are available and the cost is good."

As the owner of a c
ampus house, Perez-Ruiz explained, the goals are similar to those of any landlord. You want a property that you can keep fully occupied and that will produce rental income to at least co
ver your costs (mortgage, taxes, insurance). You also want to be sure you have signed leases and security deposits from every renter.
What scares many parents -- and keeps the dorms full -- are the unknowns. What if I can't rent it? What if my kid drops out? What if the housing market suddenly flatlines? What if? What if?

"The question should be, how much growth is there in the community?" Perez-Ruiz said. "The ideal situation is a town like Lubbock, where we're not too big and not too small – yet the student population is growing."

Additionally, a house you own and can keep full still beats paying thousands each year for student housing. And, Perez-Ruiz said, don't forget the tax breaks on mortgage interest, property taxes and a percentage of utilities and maintenance (if you collect rents).

###